This is an archived article and the information in the article may be outdated. Please look at the time stamp on the story to see when it was last updated.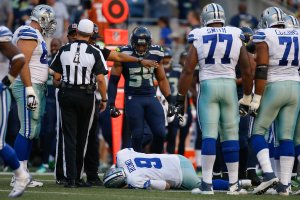 SEATTLE, WA — It was the worst case scenario for Cowboys fans last night, watching Tony Romo down on the turf, writhing in pain.
"Oh, I thought 'well there goes another year,'" one fan told NewsFix.
Romo's health was even one of the first things on Seahawks coach Pete Carroll's mind when he held his post game presser.
"We heard that Tony Romo is OK. That was kind of a nasty fall," said Carroll. "That's what the coach said and we heard it from the box, too, that he's OK so that's a good sign."
The Cowboys swear that the injury to Romo's back is minor, but you'll forgive Cowboys Nation for staying nervous. So it looks like we're back to where we were two years ago, worrying about Romo's vertebrae every week. It looks like we're on "BackWatch 2016".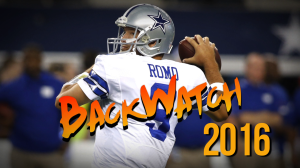 Speaking of back, first round running back Ezekiel Elliott made his NFL debut last night, but it was his pre-game touring that grabbed the headlines.
Photos and videos submitted to TMZ showed 'Zeke' hanging out at a marijuana dispensary in Seattle, where of course, weed is legal.
ICYMI: Ezekiel Elliott — Marijuana Tourist … During Seattle Road Trip (VIDEO + PHOTO) https://t.co/ncrjRttKnd

— TMZ Sports (@TMZ_Sports) August 26, 2016
Jerry Jones said after the game that the whole thing is "just not good."
Luckily there's no rule against window shopping and there's no proof Elliott made any purchases. If we can make a suggestion to Zeke, though; next time you're in up in the Emerald City, how about you just check out the first Starbucks, rather than a head shop!