This is an archived article and the information in the article may be outdated. Please look at the time stamp on the story to see when it was last updated.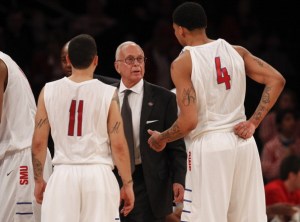 DALLAS -- It looks like the Mustangs basketball program is about to be taken off the fast track and relegated to the stable for the next few years.
Not only are the Mustangs banned from postseason play this season, the NCAA has suspended head Coach Larry Brown for nine games.
Nine is also the number of scholarships the program will lose over the next three years.
The sanctions stem from an NCAA investigation involving SMU coaching staff and junior Keith Frazier and revealing academic misconduct which allowed Frazier to become eligible to play.
The NCAA determined Frazier received a little too much help on his coursework.
This is just the latest example of what Brown can do for you, and the third time a college program led by Coach Brown has been punished.
Not that SMU is a stranger to NCAA sanctions. The football team was infamously given the death penalty in 1987 with its entire season canceled, something from which the program has yet to recover.
But the basketball team wasn't the only SMU program punished Tuesday. The men's golf team was also banned from tournament play and placed on three years probation for recruiting violations and unethical conduct.
If trouble comes in threes, this is a triple crown the Mustangs Athletic program didn't want.