This is an archived article and the information in the article may be outdated. Please look at the time stamp on the story to see when it was last updated.
NAVARRO COUNTY — Deep in the weeds in Navarro County, there's, well, actual weed!
The Navarro County Sheriff's Office got the drop on a five acre marijuana field just outside a rest stop.
The greenery was reportedly found after the sheriff`s office got an anonymous tip about some sketchy stuff going on in the area.
And, you won`t believe who was keeping watch!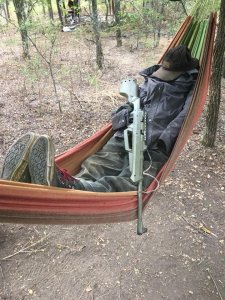 This scarecrow was armed and not so dangerous.
According to a Facebook post, the dummy was fully dressed, boots and all, and holding "an assault type rifle" to ward off unwelcome visitors. Although people in the comments say it's actually a pellet gun.
But it doesn't look like this "grow crow" did its job because authorities busted the camp, weeding out 10,000 marijuana plants. Some of which had grown to six feet tall!
The discovery was so well hidden, a bulldozer had to be brought in to even reach the site.
In the Facebook post, the Sheriff's Office said, "This was a fairly sophisticated operation with camp sites, portable generators, (and) water pumps."
An investigation is underway to figure out who's behind the buds.
Maybe it's time for these "farmers" to puff, puff, pass on the pot so they don't get punished by the po-po!