This is an archived article and the information in the article may be outdated. Please look at the time stamp on the story to see when it was last updated.

All you moon lovers and stargazers are in for a big treat this weekend. Two heavenly cosmic events are taking place at the same time, it what's expected to be quite a light show!
That's if the clouds cooperate. Come on Mother Nature, work with us!
Sunday night, the brightest supermoon of a very busy supermoon season shines down on us. You could call it the super supermoon.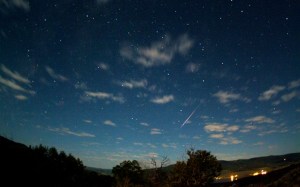 This as the Perseids return with a bang! The annual meteor shower is expected to peak overnight between August 12 and August 13.
While the supermoon's bright light could steal the meteor shower's thunder,  NASA says you should still be able to spot a few fireballs if you look closely enough.
Be sure to share your pics with us on Facebook and Twitter. Happy stargazing!