This is an archived article and the information in the article may be outdated. Please look at the time stamp on the story to see when it was last updated.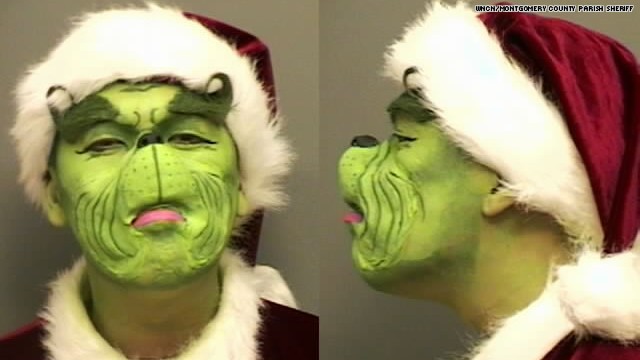 WASHINGTON PARISH, LA — You're a mean one, Mr. Grinch! Christmas is safe now that a real-life Grinch has been busted in Louisiana.
Seriously, we've got the CRAZY mugshot to prove it. Dude's decked out in the creepy green makeup and everything!
Police say the 56-year-old Grinch was lurking around Washing Parish, waiting to steal Christmas trees, ornaments, decorations and presents from children.
"We received a tip from Cindy Lou of Whoville who told us Grinch was heading to our parish. We set up surveillance and were able to spot his dog, Max, who was traveling on the shoulder of Highway 10 between Bogalusa and Franklinton," Sheriff Randy Seal said in the press release. "We secretly placed a microphone on his collar and let him go.  Thankfully, he went to Grinch who was hiding in the woods near Highway 62. Grinch tells his dog everything, so we were able to listen in on his plans to ruin Christmas."
Mr. Grinch tried to run, but he didn't get too far before officers tackled him.
"You're a mean one, Mr. Grinch.  You really are a heel," Sheriff Seal told the suspect after booking him into jail. Ha!
MORE MUGSHOT MAYHEM: