This is an archived article and the information in the article may be outdated. Please look at the time stamp on the story to see when it was last updated.
CORSICANA-- There's some monkey business going on in Corsicana.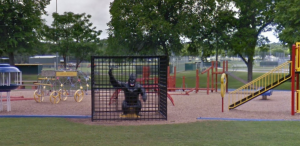 Meet Dobby, a gorilla statue in a cage at the community park.
Seems harmless doesn't he? Wrong.
The great ape debate is turning the city upside down.
Everyone is going bananas over the caged gorilla. One woman says, "is Corsicana gone crazy or what?"
For 20 years, Dobby wasn't exactly on the a-list… until the city hauled him off, and suddenly— fame, flowers, and… bananas.
There's even a Facebook page mourning his loss.
One person passing by says, "We used to climb on it, and I used to touch his finger. His finger was just pointing out, and I always tried to touch it."
It all started last month when someone, offended by the ape, called the city... and the city took him away. They say Dobby is potentially racially insensitive.
One women who grew up in the area says, "What's so offensive about a gorilla in a cage? We have real ones in cages."
His removal caused a huge uproar… okay maybe not a Herambe uproar… but so much so that they are putting Dobby back into the park! In some capacity. It sounds like good news for the town, we just don't know yet if his return will be a walk in the park.