This is an archived article and the information in the article may be outdated. Please look at the time stamp on the story to see when it was last updated.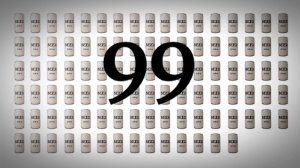 AUSTIN, TX — Beer lovers are celebrating now that a brewery in Austin has rolled out the ultimate party packs. When a six-pack or even a case won't do — how about a 99-pack?!
That's right. Austin Beerworks has unveiled the very first 99-pack of beer. For $99 you can haul off an 82-pound, 7-foot long package of suds.
The company filled each can with its Peacemaker blonde ale.
But after you and your buddies down nearly a hundred beers, keeping things quiet at your next house party isn't going to be easy.
In case you were wondering, only certain stores in Austin will have the 99-pack special in-stock.
Here's a question — why should all the tubers and college students down there have all the fun? It seems to us like a road trip is in order.