This is an archived article and the information in the article may be outdated. Please look at the time stamp on the story to see when it was last updated.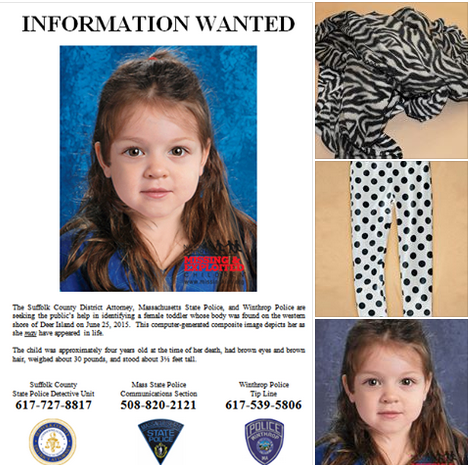 WINTHROP, Mass. — More than 45 million people have shared the compter-generated picture of a little girl found dead along a rocky shoreline of Boston Harbor. But authorities are no closer to identifying her.
She is known only as "Baby Doe" and believed to be about 4 years old — with big brown eyes and brown hair reaching just below her shoulders, according to investigators. She was about 3½ feet tall and weighed about 30 pounds.
Police released photos of the blanket and the polka-dot leggings she was wearing.
All photos are on our Facebook page but for those who don't use FB, here are the little girl's blanket and leggings pic.twitter.com/aVBhl7nK1s

— Mass State Police (@MassStatePolice) July 2, 2015
"I think we all know she's a beautiful child," Suffolk County District Attorney Dan Conley said. "We ask the parents or caregivers of this young girl to please step forward and clear your conscience."
Baby Doe's body was discovered June 25 in a trash bag along the shore of Deer Island, a narrow peninsula just east of Boston's Logan Airport. It's unclear whether her body washed ashore or was discarded on the shoreline.
"How can nobody miss her?" Nina Marie Arnold-Orlando said in a post.
It's a question the nation is asking.