This is an archived article and the information in the article may be outdated. Please look at the time stamp on the story to see when it was last updated.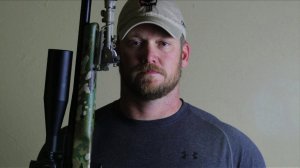 AUSTIN — It's hard to find enough ways to honor American Sniper Chris Kyle for his service to our country in Iraq. It's even harder since he didn't live long enough to receive those honors in person.
Wednesday, Texas Governor Greg Abbott did his part to pay tribute to our state's hero, issuing the Texas Legislative Medal of Honor, the highest military decoration the state has to offer.
Chris Kyle's wife, Taya, was on hand to accept the medal.
Kyle served as a sniper during the Iraq war with an impressive 160 confirmed kills.
He survived those dangerous conditions overseas, but life back home turned deadly for Kyle. He was trying to help a fellow service member when he was shot and killed.
The gunman, Eddie Ray Routh, is serving life without parole for killing Kyle and his friend, Chad Littlefield.
Hey, with a Medal of Honor, a highway bearing his name (US 287 in Midlothian), not to mention a movie starring Bradley Cooper, it looks like Chris Kyle is getting the recognition he deserves in Texas history.