This is an archived article and the information in the article may be outdated. Please look at the time stamp on the story to see when it was last updated.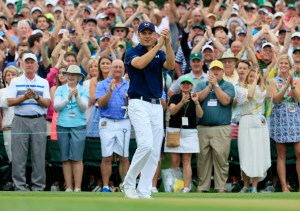 AUGUSTA, GA — Dallas boy Jordan Spieth has claimed the coveted green jacket at the Masters!
The local legend dominated the course from day one at record setting pace.
The magnitude of this win is staggering. At just 21-years-old, Spieth is now the second youngest golfer to ever win the Masters, and his final score is tied for the lowest in tournament history!
Yep, it`s gonna be tough to top this act!
With a win on golf`s biggest stage now under his belt and a purse of $1.6 million in his pocket, the links are looking pretty green for Jordan!
Congrats! Way to make North Texas proud!