This is an archived article and the information in the article may be outdated. Please look at the time stamp on the story to see when it was last updated.
DALLAS -- The mile-long march was riddled with the chants we've come to expect. Shouts of "Remember their names," "Hands up, don't shoot," and "No justice, no peace," rang through downtown Dallas Saturday.
"We're going to make noise because Jordan Edwards says we must make noise," Pastor Freddy Haynes shouted to the crowd that gathered at Dallas' Pike Park.
It was hot, but it didn't matter.
"We have marched in this heat because we're going to put the heat on anyone who is holding up the status quo of injustice," Haynes said.
The most recent march to end Police brutality came at a relevant time, Father's Day weekend.
"This Father's Day is really hard for me," Odell Edwards told the crowd, fighting back tears.
Edwards had two of his three sons with him for support. The third won't be there again.
That's Jordan Edwards, the 15-year-old shot and killed by Balch Springs Police Officer Roy Oliver in late April.
"I get no rest. It's so hard," Odell Edwards said.
Oliver has been charged with Jordan's murder, but no indictment has come yet. With that in mind, people gathered to make sure we're getting the picture beyond the hashtags. They want the Police to get their house in order.
"We support law enforcement, right?" Texas Senator Royce West asked the crowd.
"Yes!" they agreed.
"What we don't support," he continued, "is Police brutality."
And that's the key. Bring an end to scared and corrupt cops so fathers like Odell Edwards don't have to spend their special day crying in front of hundreds of supporters.
"Every time I look at my kids, my family, I see the hurt in their eyes, and I try to be strong for them," he said.
From the looks of it, he's got the community ready to be strong for him.
Not only that, they're tying Jordan's fight for justice to others like it in North Texas.
Collette Flanagan started Mothers Against Police Brutality after her son, Clinton Allen, died after an officer shot him seven times. He was unarmed.
"We do not need Policemen and the City of Dallas that come out and play basketball with our community, and barbecue, and drink red soda," Flanagan said. "We want you to stop killing our children. We want you to respect our children."
The site of the rally, Pike Park, had its own significance. A teen named Santos Rodriguez was killed near there by a Dallas Police Officer in 1973.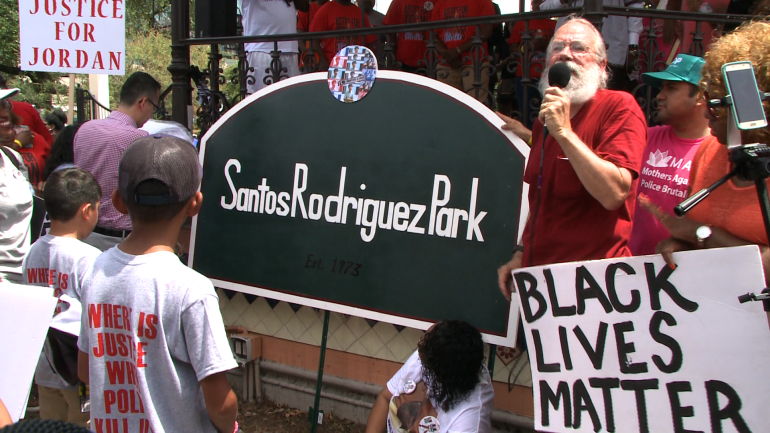 "They took him to a gas station, they put him in handcuffs in the front seat of a Police car while the officer sat in the back and played Russian Roulette with this child's head," Community activist John Fullinwider told the crowd. "The officer blew his brains out because he wouldn't confess to burglarizing a candy machine."
That officer, Darrell Cain, was indicted for the murder of Santos Rodriguez. He got five years in jail and served half of it. He is the most recent Dallas officer to be found guilty in a shooting death.
Pike Park was dedicated as Santos Rodriguez Park Saturday.
These protestors don't want to have to name a park after their murdered kids, though.
As one woman said, "We tell our babies to run, then tell them, 'Don't run,' then tell them to stand still with their hands up, then tell them, 'Wait a minute, don't. Don't talk, don't reach. As a matter of fact, turn invisible.' These bullets have made our babies invisible."