This is an archived article and the information in the article may be outdated. Please look at the time stamp on the story to see when it was last updated.
LOS ANGELES — KFC is taking a lickin' for its finger lickin' good chicken shaped like… a rat?!
Devorise Dixon says he made the disgusting deep-fried discovery after he bought a three-piece box of tenders at a KFC in Los Angeles.
"It was very nasty. I spit it out," Dixon told The Randy Economy Radio Show. "I looked down at my hand and I realized that it was in the shape of a rat with a tail and everything in it."
You can guess what he did next — he posted it to Facebook.
Dixon says he put the tender in the freezer, then returned to the restaurant with photos and his receipt.
"The manager actually freaked out, confirmed that it was a rat. She apologized for it. They actually just offered me a free meal," Dixon said.
Which he declined. Can you blame him?! He did get something else though — a lawyer.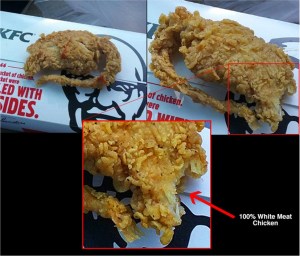 But shape alone is not enough to prove a chicken tender guilty of being a breaded rat.
KFC said in a statement, "Our chicken tenders often vary in size and shape, and we currently have no evidence to support Dixon's claim."
The unanswered question: Well, what's lurking under the breading? At this point, we sure don't know. Dixon isn't returning CNN or KFC's calls.
The company told CNN they've offered to have the tender tested at an independent lab.
"We are continuing to investigate this matter," KFC said in a statement. "We are aggressively trying to reach Mr. Dixon, and we request that he return to the restaurant with the product for testing or call us at 1-800-Call-KFC."