This is an archived article and the information in the article may be outdated. Please look at the time stamp on the story to see when it was last updated.
NORTH RICHLAND HILLS - Police in North Richland Hills are looking for the shooter in an apparent road rage shooting that happened overnight on Interstate 820.
Officers were called just after 2 a.m. to the Waffle House on Boulevard 26, just off 820 and State Highway 183, where a 33-year-old man had pulled into the parking lot with a gunshot wound to his arm.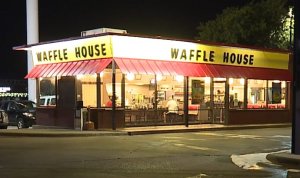 Army vet Ryan Leonard, who says he's a Waffle House regular, sprang into action after a cook announced the man had been shot. Leonard used a lanyard to make a tourniquet for the victim's arm, stopping bleeding and attending the wound until an ambulance arrived.
The victim was taken to a local hospital; his injuries are not life-threatening.
The suspect vehicle in this most recent incident is described as a white, mid-size SUV with a driver wearing a white baseball cap.
Anyone who may have witnessed or has any information on the case is asked to call NRH police at 817-281-1000.