This is an archived article and the information in the article may be outdated. Please look at the time stamp on the story to see when it was last updated.
Lots of us love our body art! I'm just sayin.'
But sometimes, we have second thoughts months, even years later. Like that tattoo of a seahorse....
..next to your significant other's name, who's now your ex-significant other.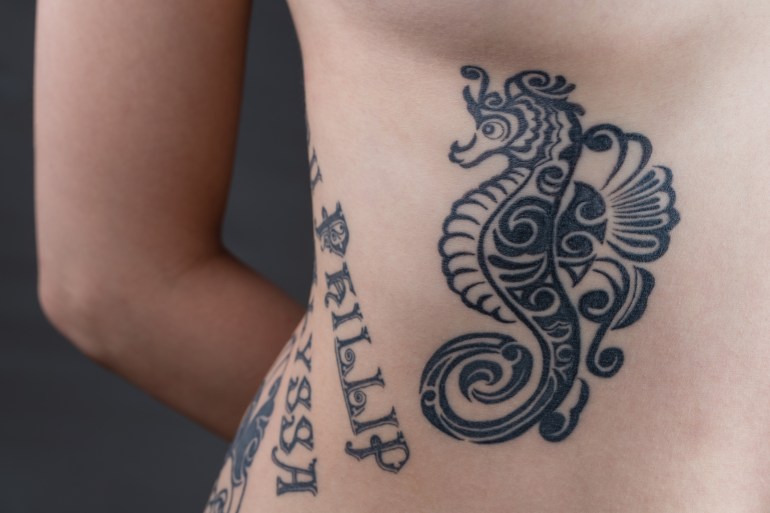 But soon enough, that good idea turns bad. Dusty Hicks of Aloha Tattoo Removal hears these stories often. "Things change in your life. Ten years later, you think, 'I don't need that.'  You know, 'I don't need that skull on my neck,'" Hicks said.
And then, there are some embarrassing misspellings.
Everybody has their own reasons for getting one removed.
"This is an eyesore for me," Jane Pratt said of hers. Jane got her one and only tattoo on her ankle when she was 17. Now, she keeps it covered up for her job in executive sales.
Then, there's this issue for Jane: "I have two children of my own who are asking me, why do I have a tattoo? 'What is this? Can I color on myself like you have on your ankle?'"
Well, that permanent ink isn't so permanent anymore, thanks to laser tattoo removal. Technicians use cold to numb the skin, then use a laser to break up the ink. In just minutes, you can see the tattoo fade. Your body's natural process washes away the ink. Here's Jane's tattoo, before and after just one session: It takes several sessions for the whole thing to disappear. So, are you ready for laser tattoo removal? Now's your chance to get a tattoo removed for free! Enter a picture of your ugly tattoo in
CW33's Ugly Tattoo Photo Contest
. One winner will get their tattoo removed courtesy of Aloha Tattoo Removal -- it's up to a $6,000 value!
And soon, your biggest reget... uh, regret could be gone! You've got through Sunday, September 6 to enter. After that, you'll get a chance to vote on your favorites!
---
Should You Get a Tattoo?
[playbuzz-item url="//www.playbuzz.com/mtveditorial10/should-you-get-a-tattoo"]