This is an archived article and the information in the article may be outdated. Please look at the time stamp on the story to see when it was last updated.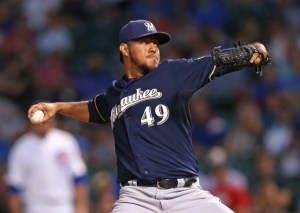 ARLINGTON, TX — Things couldn't have gone much worse for the Rangers last year — injuries, resignation, last place — Oy Vey!
But hey, it's a new year. There is a new skipper, Jeff Bannister from the Pittsburg Pirates. And introduced Wednesday at the Rangers Winter Camp, a new starting pitcher, Yovani Gallardo who is a local kid out of Trimble Tech in Forth Worth.
"Living in Fort Worth all my life, it's definitely been a dream to have an opportunity to play for a team like the Rangers," Gallardo said.
He's only been here a day, but he may already have a clubhouse nickname.
"I call him the quiet assassin," said former Rangers pitcher and current special assistant to the GM Darren Oliver. "He's a quiet  guy but on the mound he's got a lot of fire out there."
His 8-11 record last year for the Milwaukee Brewers wasn't much, but his 3.51 ERA was solid and he's known as an innings eater.
"We're looking forward to him sliding the rotation," said pitching coach Greg Maddux . "He's been an All-Star, he's pitched in the playoffs, he's pitched opening day multiple times."
For a pitcher, this assassin can hit. He's got 12 career home runs and even took Hall of Famer Randy Johnson deep once.
"That will always be one of the highlights of my career," Gallardo said. "They pretty much just told me to close my eyes and swing."
Hope springs eternal every Spring, but hopefully Gallardo will help bring another pennant, instead of another cellar-dwelling season to Arlington.