This is an archived article and the information in the article may be outdated. Please look at the time stamp on the story to see when it was last updated.
FORT WORTH -- Juneteenth or "Freedom Day" is the statewide holiday that celebrates when Texas slaves finally found out they were free in June of 1865 -- two years after the Emancipation Proclamation was signed.
If you don't know the details, this is when you're thankful for Twitter and for people like Opal Lee.
"I've known about Juneteenth since I was a child in Marshall, Texas," Lee explained. "We used to have celebrations there."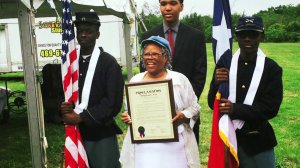 She has spent most of her 90 years making sure every June 19th doesn't go unnoticed here in Dallas-Fort Worth. That means leading the annual Juneteenth Fort Worth Parade and other happenings on this historical holiday.
She didn't stop there, Opal also convinced the Texas legislature to create a Juneteenth-themed Texas license plate.
"It says, 'Juneteenth, Celebrate Freedom,' and I wish everybody in Texas would have a plate like this," Lee said while showing her new license plate.
Now that Opal has checked that off her bucket list, she wants to make the celebration bigger and better by asking President Obama to declare this a national holiday.
"I know he's embraced Cinco de Mayo, so I have written a letter, and I want to see him to ask him why or when we can have Juneteenth as a national holiday," Lee explained to NewsFix.
She says she'll even walk all the way to the White House if she has to!