This is an archived article and the information in the article may be outdated. Please look at the time stamp on the story to see when it was last updated.
DALLAS — Desmond Blair. If you're not familiar with this artist's work, let us to introduce you. NewsFix first told you his story of adversity two weeks ago. How growing up without hands and dealing with tasteless criticism and negativity only made his paintings better.
His story instantly went viral with Facebook shares and retweets around the world.
So, we checked back in with Blair in Deep Ellum at the Urban Chatter Art Show.
"Since the story aired, I've gotten a lot of requests. So, I'll be busy the next few months or whatever," Blair said. "I have a website, but I think I need a store"
And what's his most popular painting?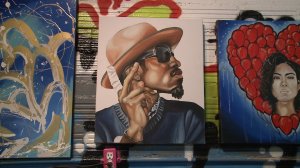 "People have been asking me mainly about the Andre 3000 piece. And I don't know if I wanna come up off of that one because it's kinda like a personal favorite. If I could give it to him, now that would be cool," he said.
Blair's overnight fame not only got him noticed by new fans but reunited with old ones, too. Floyd Pittman met Blair 16 years ago.
"I even have a picture his mom sent me when he was a youngster. 8th grade," Pittman said.
He lost touch, until now.
"My daughter and I are here from Virginia and made it our business to come to his art show to see him, just to see if he remembered that time we met," explained Pittman. "To see him come from where he was to now, it's beautiful."
Here's hoping Blair will continue to inspire the world to see a bigger picture.
"Anybody can do anything," Blair said. "It doesn't matter what your circumstances are. You can do it, if you want to."
For more on Desmond Blair's work, check out his website.