This is an archived article and the information in the article may be outdated. Please look at the time stamp on the story to see when it was last updated.
On May 20th, three firemen were sworn into the brotherhood/sisterhood of the fire department. One of those firemen will be part of Mesquite's history. For the first time in the Mesquite Fire Department's 126-year history, there will be a father and son firefighter at the same station.
Fire Chief Mark Kerby said, "It is a historic day. We have two fine gentlemen. One of them senior have here for a long time and has done a really good job for the city of Mesquite and the Mesquite Fire Department. And the other junior has been just coming on and he's going to DO a good job… I'm sure he's a hard worker and will do a good job as soon as he's trained. He's in the middle of training right now."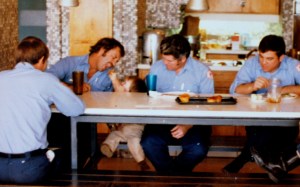 Senior Captain David Baker has been with the department for 35 years is proud of this moment. His son Adam has gown up around the fire department. He's spent the night at the station before and already felt like Station 6 was family.
Even Mesquite Mayor John Monaco  came out to welcome the new recruits. The mayor remembers a time when it wasn't possible for a father and son to work at the same station in Mesquite. Monaco's glad that's changed. "I grew up in an area where there was generation after generation that would work for the fire department or the police department. And I think that's a good thing."
Adam is being welcomed into a close family. Fire Department PIO Jeff Miller explains the fire department`s dynamic. "The atmosphere, it`s close. We all share the ups and downs and deal with tragedy sometimes and also fun times. But we know when to get serious and do our jobs," Miller said.