This is an archived article and the information in the article may be outdated. Please look at the time stamp on the story to see when it was last updated.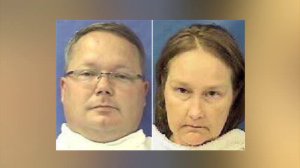 KAUFMAN COUNTY, Texas — She was the key witness at the trial of her estranged husband Eric Williams.
Her blow-by-blow testimony on how he carried out three murders and then celebrated with a steak dinner convinced jurors to convict him in less than two hours and send him to death row.
Tuesday, it was Kim Williams' turn to be sentenced.
She made a deal with prosecutors — plead guilty to one murder and serve 40 years in state prison.
Williams admits she was the getaway driver and went along with her husband's revenge killings to pay back Assistant D.A. Mark Hasse and D.A. Mark McClelland.
They had prosecuted him for stealing a computer, which cost him his job as Justice of the Peace.
Cynthia McClelland, the DA's wife, was collateral damage. He didn't want to leave a witness, so he shot her twice.
The McClelland's grown children took the stand and thanked Williams for helping to put the man who shot their parents on death row.
On Tuesday, at the Kaufman County Courthouse, justice is way more than a steak dinner.