This is an archived article and the information in the article may be outdated. Please look at the time stamp on the story to see when it was last updated.
LONDON, ENGLAND -- Move over America, there's a new big man on campus!
According to a new study, British millennials are on the path to being the heftiest generation on the other side of the pond! The researchers from Cancer Research U.K. claim 7 out of every 10 young people in the U.K. will be too chunky by the time they hit middle age, and having "more to love" as an adult is linked to 13 different types of cancer.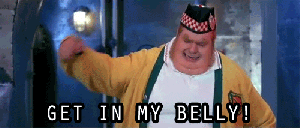 Overweight millennials aren't the only ones having a tough time. Specialists claim children can't hold a pen or pencil these days because of too much screen time.
Apparently, kiddos can swipe on a screen all day long but don't have the hand strength to write their own names, let alone writing anything in cursive!
According to pediatric doctors, handwriting experts and orthopedic therapists, drawing, painting, and cutting are being replaced with iPads, where a child can do all those things with a touch of a finger, and it's all impacting kid's fine motor skills and coordination.
Hey, they say the pen is mightier than the sword. Let's just hope children will be able to hold that pen one day!