This is an archived article and the information in the article may be outdated. Please look at the time stamp on the story to see when it was last updated.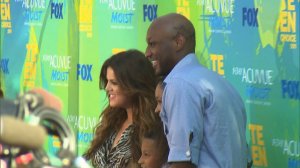 LOS ANGELES — Khloe Kardashian knows her estranged husband, Lamar Odom, has a tough road ahead, but she says she "will be there supporting him every step of the way."
The reality TV star opened up to People magazine about Odom's recovery after he was found unconscious at the Love Ranch, a Nevada brothel where he had been for several days. While the couple were in the final stages of a divorce that has now been put on hold, Kardashian rushed to Odom's side following his medical crisis.
However, she told People there are no plans for her and Odom to get back together.
"There are too many other important things, too many medical things," she said. "It's not even in our brains thinking about us as a couple or having a relationship right now."
The couple married in 2009 after dating for a month and then split in 2013 among reports of alleged infidelity and substance abuse by Odom. But the pair have maintained they still care deeply for each other.
"I loved him always, and I will always love him," Kardashian told People in a new cover story. "I don't believe love is fickle. I believe when you love someone, you are allowed to love from afar. You don't have to be with that person in order to love him."
After the story was released, Khloe took to Twitter to set the record straight.
I want to make this VERY clear…. My people cover, I shot and interviewed for PRIOR to all the events that happened. PART 1

— Khloé (@khloekardashian) October 28, 2015
It was contracted press for my book that I wrote months and months ago. Timing is what it is. PART 2

— Khloé (@khloekardashian) October 28, 2015
Shame on you all for thinking the worst of me. It's been a tough few weeks. I don't need your fucked up energy!

— Khloé (@khloekardashian) October 28, 2015
Know the facts before you throw stones

— Khloé (@khloekardashian) October 28, 2015
I had to do a follow up 5 minute phoner after the events only because I was contracted to. I cancelled my book tour to avoid this attention.

— Khloé (@khloekardashian) October 28, 2015
She was there when he awakened, and Odom reportedly had his first words for her. Since then he's been recovering in a Los Angeles hospital, where a hopeful Kardashian remains cautiously optimistic.
"The fact that he woke up was definitely a sigh of relief for everybody," Kardashian said. "Every hour is different. It goes up and it goes down but he's awake. He's alive and that's all I wanted, was for him to be okay."