This is an archived article and the information in the article may be outdated. Please look at the time stamp on the story to see when it was last updated.
[nd id="33344401″]
Bullied Tennessee student Keaton Jones is getting a lot of backlash over his mom's multiple displays of the Confederate flag and comments on white supremacy, all while two GoFundMe pages -- one with nearly $60,000 -- raising money for the boy have been put on hold.
Kimberly Jones has made her Facebook account private, but not before screen shots were made her comments over white supremacy and photos depicting her family with Confederate flags.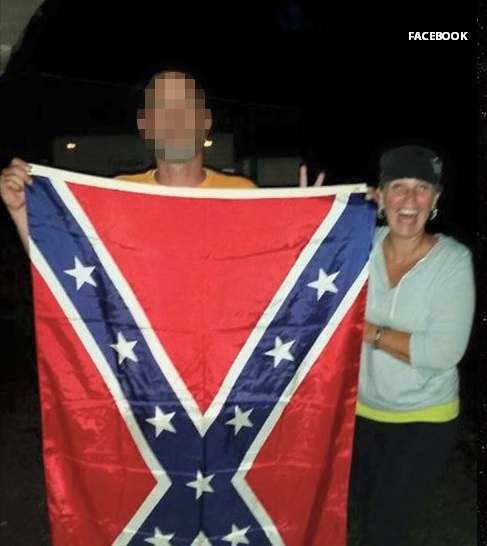 Kimberly's Facebook page reportedly boasted photos of her posing with the Confederate flag, along with a photo of her children posing with a flag.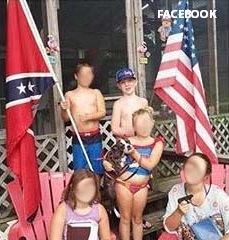 Screen shots also surfaced from the account commenting on the violence at a white supremacy rally last August in Charlottesville, Virgina, where a man drove his car into a crowd of counter protesters, killing one and injuring many others.
"Dear butt hurt Americans, If you aren't bleeding, no bones are sticking out & you can breathe, STOP crying! For the love, some folks clearly never picked a switch. And before y'all start talking to me about metaphorical, emotional, financial or historical blood & brokenness, Don't. Join a group."
And that started a whole new conversation about Keaton Jones.
https://twitter.com/BLVCKMATTERS/status/940224429002448896
"Keaton Jones MOM is a next level racist who's posted in many offensive and non remorseful comments towards black people, so how is she preaching about bullying when she herself is a bully lmao people are funny" a Twitter post said.
But before that, Keaton shot to fame and gained #standwithkeaton  and #keatonstrong support from all over the world, including social media messages from athletes and celebrities, videos of encouragement, and invitations to big movie premieres.
Stay strong, Keaton. Don't let them make you turn cold. I promise it gets better. While those punks at your school are deciding what kind of people they want to be in this world, how would you and your mom like to come to the Avengers premiere in LA next year? https://t.co/s1QwCQ3toi

— Chris Evans (@ChrisEvans) December 10, 2017
Different is special. You're beautiful Keaton. Inside and out. #IStandWithKeaton https://t.co/I7jTVF3izn

— Gal Gadot (@GalGadot) December 11, 2017
#KeatonJones, your curiosity and kindness will overcome this moment and bring you many better days to come. #StandWithKeaton https://t.co/8t4ojKLs72

— Ryan Seacrest (@RyanSeacrest) December 10, 2017
@DonteStallworth @Lakyn_Jones hopefully my video and the tweets that Keaton have been getting brings awareness to bullying and how serious it is in our school system pic.twitter.com/1Dujv3RxA5

— Delanie Walker (@delaniewalker82) December 9, 2017
I #StandwithKeaton. Keaton baby, just know you're not alone. There are so many people who come out of bullying so much stronger and you will be one of them!! God bless you sweetheart. https://t.co/LdCAy2lDHu

— Team Demi (@ddlovato) December 11, 2017
Hi @Lakyn_Jones, could you pass this message along to Keaton? ❤ pic.twitter.com/3l8P4fKAqW

— Hailee Steinfeld (@HaileeSteinfeld) December 10, 2017
https://twitter.com/milliebbrown/status/939632746384838657
Now, some have dropped the Keaton Jones cause; but others are still on board as Keaton's mother apologizes.
"I am genuinely, truly sorry. If I could take it back, I would," Kimberly said in an interview on Good Morning America Tuesday. Kimberly confirmed the family photo's authenticity as she expressed regret over trying to be  funny, ironic, and extreme. "We're not racist; people that know us know that," she said.
Many on social media are separating mother and child, continuing support for Keaton.
With the revelations about #KeatonJones family surfacing we must remember a few things. We cannot hold kids accountable for the actions of their parents/family. Though disheartening, we were all moved by the effects of bullying and to end it. Let's continue to focus on that.

— Parson James (@ParsonJames) December 11, 2017
Keaton didn't get to choose the family that raised & shaped him, you smug ghoul. How 'bout showing him that people of all races & creeds can come together? Change things, maybe? Show him a better world? https://t.co/BZqBEboabL

— Patton Oswalt (@pattonoswalt) December 11, 2017
48 hours into this story and a backlash has begun. We're introduced to the inevitable grey area of a situation. The unified take begins to splinter under its own weight.

— John Mayer (@JohnMayer) December 11, 2017
Kimberly says she hopes no matter what people think of her, they will still rally behind Keaton's message about bullying.
"They wanna hate me, I mean, and whatever, that's fine but still, talk to your kids. Talk to your kids. Because this is an epidemic," Kimberly said.
Keaton's supporters include the guy who started the GoFundMe page for him and raised $58,249 before donations were halted Monday night.
Joseph Lam started a 'Stand Up for Keaton' page December 9, just days after a video of Keaton crying and talking about being bullied at school went viral. According to TMZ, GoFundMe is working to confirm Keaton's mom, Kimberly Jones, is the beneficiary.
Initially, Lam said in the GFM post, "Keaton is being bullied at school.  This video really touched my heart.  I decided to do this GoFund Me to help with this child's future...I'm so glad Kim posted this video of her son.  It shows how bullying can really impact a child.  The video that she posted really touched my heart and felt compelled to help.  This is best way that I knew how."
Lam has since updated the page, announcing the pause in donations. Lam says judging Kimberly before knowing her is itself a form of bullying, reiterating that he does not know the Jones family but still wants to help Keaton.
"THIS IS NOT ABOUT THE MOM!!"
Lam says he is working with GoFundMe to ensure the money goes to something good for Keaton, whether it be private school  or college.