This is an archived article and the information in the article may be outdated. Please look at the time stamp on the story to see when it was last updated.
VALLEY RANCH–Is it time for Josh Brent to make a comeback?
The former Dallas Cowboy just finished 5 months behind bars and 45 days in rehab for a drunk driving crash that killed teammate Jerry Brown. Now his agent tells ESPN he's filed for reinstatement and could meet with NFL commissioner Roger Goodell by the end of next week.
He's not the only one pleading his case to the commish.
Browns wide receiver Josh Gordon had been at training camp. But Friday he's meeting with Goodell, appealing a one-year suspension over a failed drug test.
Then there's Ray Rice. The Ravens running back got a two-game suspension after a domestic violence incident.
"I made a huge mistake and I want to own it," Rice said at a news conference Thursday.
That's a start. And his girlfriend not only forgave him, she married him.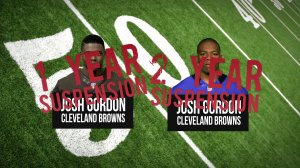 But one guy gets a year suspension for using drugs, while another gets only 2 games for domestic violence?
Now it's up to the commish to determine whether Josh Brent has been punished enough for the death of a teammate.