This is an archived article and the information in the article may be outdated. Please look at the time stamp on the story to see when it was last updated.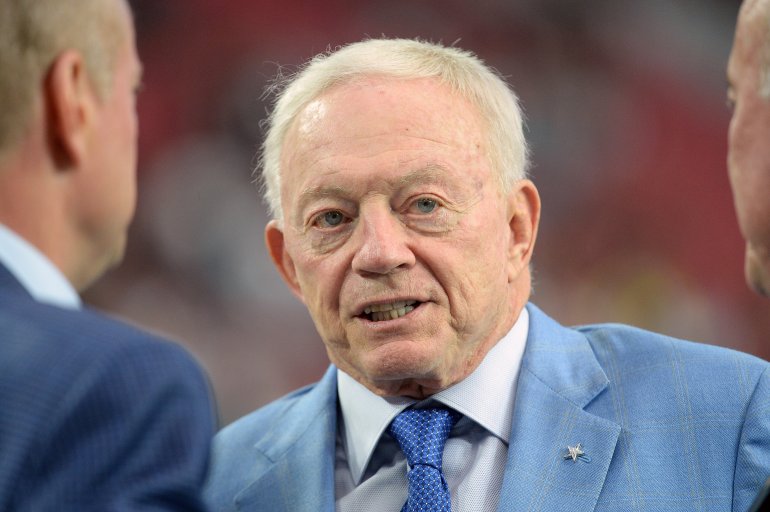 ARLINGTON — While the Cowboys players faced down questions on how they could suffer yet another last-second loss to the Packers, Jerry Jones was being asked about the anthem protests again. It happened because Vice President Pence left the Colts-49ers game on Sunday after several San Fran players knelt during the Star Spangled Banner.
This time, though, Jones had a much more direct response. In his lengthy answer, Jones reportedly said, "If there is anything that is disrespectful to the flag then we will not play."
So is that threat legit? Would Dak or Zeke hit the bench if they took a knee? Jason Garrett says you'll have to ask Jerry about that.
"I have not spoken to [Jones] about that," Jason Garrett said on Monday. "My only comment on that would be a couple of weeks ago when it was a really volatile issue around the NFL we had some really good conversations as a team, coaches, and players."
It's all just the latest in the out-of-bounds battle that has turned football into a political minefield. Today ESPN announced they have suspended host Jemele Hill for two weeks after she tweeted out calls to boycott the Cowboys advertisers.
But maybe Jones is just following the money. A recent poll claims that the NFL's popularity dropped from 57% to 44% in the last month, with the anthem debates probably playing a big part.
Of course, the big question for Cowboys fans is, now that the team is on the ropes at 2-3, will comments like these just divide a locker room looking for answers on the field?
So yeah, Sunday may have been a really tough day for the Boys in more way than one.