This is an archived article and the information in the article may be outdated. Please look at the time stamp on the story to see when it was last updated.
That's sooooo not funny, dude. Social media is blasting actor Jason Biggs for his Malaysia Airlines crash joke.
Just minutes after news broke about the plane being shot down Thursday, the American Pie star tweeted —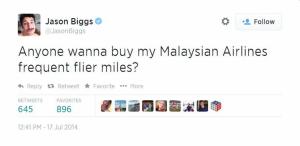 The retweets, ridicule and ripping Biggs a good one forced the actor to delete the tweet. He's since apologized saying he didn't mean to offend anyone.
Too late!