This is an archived article and the information in the article may be outdated. Please look at the time stamp on the story to see when it was last updated.
BALTIMORE, Md. — Amazingly, Janay Rice is standing by her man.
The world has now seen the video of her hubby Ray Rice punching her lights out in an Atlantic City elevator last February. It's obvious who's to blame for this beat down, the media! At least that's what Janay said on her Instagram.
"To take something away from the man I love, that he has worked his a** off for all his life just to gain ratings is horrific. If your intentions were to hurt us, embarrass us, make us feel alone, take all happiness away, you've succeeded on many levels. Just know, we will continue to grow and show the world what real love is! Ravens Nation, we love you!"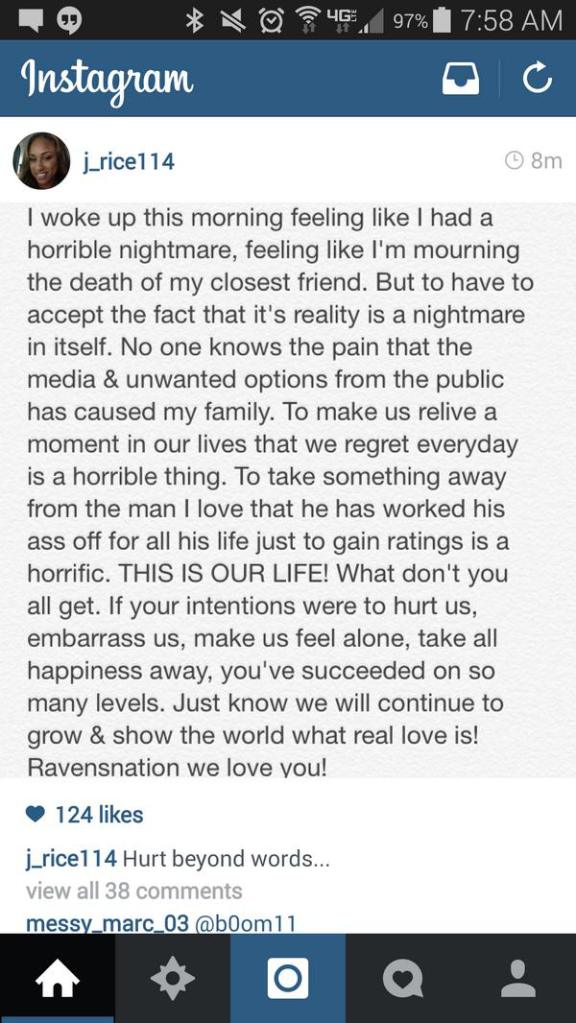 If you're wondering why Janay Rice would stay with and defend her abuser, well, that's really not the question you should be asking.
"I think one of the bigger issues is here is really concentrating on the behavior of the offender," Sonia Corrales with the Houston Area Women`s Center said. "Why is somebody choosing to abuse somebody else — whether you do it physically, economically or emotionally."
Both the NFL and the Ravens claim they'd never seen the punch video before yesterday.
Don't think this is the last you'll see of this video. No doubt, there's more smoke to come with this fire. There's a version with audio.