This is an archived article and the information in the article may be outdated. Please look at the time stamp on the story to see when it was last updated.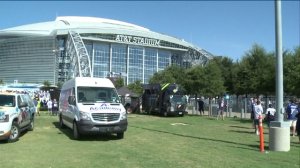 ARLINGTON, TX —  Game day is officially here; no more talking, predicting or projecting… it`s time for the Boys to leave it all on the field.  this is when it counts and this squad says it's ready to roll.
"I mean there`s tremendous excitement and anticipation. I`ve been waiting on it all off season as I`m sure everyone else has," Cowboys running back Joseph Randle told NewsFix.
"You go against the same guys for so long, and you have a couple of preseason games where you get a little taste here and there. There`s been a lot of excitement, especially this week because we know we`re going out there and playing for real now," offensive guard Zack Martin added.
That's right, the road to victory starts tonight and expectations are sky high for the Cowboys this season. But, don't expect a "Super Bowl or bust" mindset.
"No man, not at all man. We`re going out here and doing what we love doing and that`s play football. We believe in the work that we put in and our work will show," wide receiver Dez Bryant said.
Yeah, ya gotta take it one game at a time… but don`t tell that to the fans!
Well, why not get excited? The Boys are back in town and America`s Team is up against one of the best in the league — the New York Giants.
So, strap yourself in, and get ready for the ride.