This is an archived article and the information in the article may be outdated. Please look at the time stamp on the story to see when it was last updated.
DALLAS — You've probably seen the meme of a shaved headed Britney Spears encouraging you to make it through your day.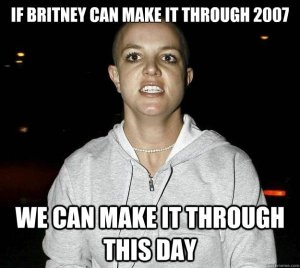 Well, the Princess of Pop's got nothing on the crazy story of Britney the dog.
"A rescuer found Britney in the middle of the road in Oak Cliff," said Dallas Pets Alive! Marketing Director Haley Edman.
She definitely had something in common with 2007 Spears.
"She was missing most of her hair," Edman said. "She couldn't move."
This seven-year-old Akita-Shar Pei mix was stuck in a toxic life.
"She just let him pick her up, put her in his car, and take her straight to Dallas Animal Services," Edman said.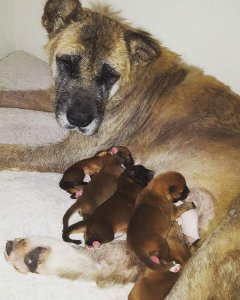 Britney was 20 pounds light and had multiple skin conditions. Then, it got more complicated.
"When they checked her for a microchip, they found out she was pregnant," Edman said.
What a circus! Her candy cuties came out healthy: a sweet quintet of Rolo, Snickers, Twix, Reeses, and Kit Kat. They all soon found homes, leaving mama Brit getting stronger and looking to get lucky.
"She would really enjoy a home with another dog or by herself," Edman said. "Preferably, she really likes the companionship of other animals."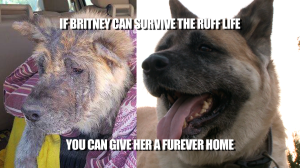 After being carried into the Vet Ranch on a stretcher initially, wanting to be near the boys and other pretty girls is her prerogative!
There's no chance she'll have a baby one more time, though. She's taken the 'no puppy pledge'.
With that story and that face, Britney clearly was born to make you happy 'til the world ends.
Are you interested in Britney or other dogs available through Dallas Pets Alive? Check out: www.dallaspetsalive.org