This is an archived article and the information in the article may be outdated. Please look at the time stamp on the story to see when it was last updated.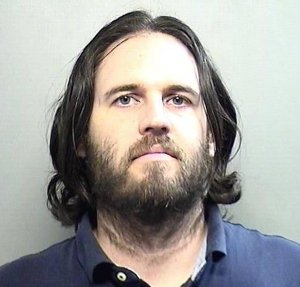 ARLINGTON – An Arlington City Council candidate is of accused of harassing a Texas lawmaker's wife with obscene and threatening messages.
Matthew James Powers, 35, was arrested February 8. He was charged with harassment for sending vulgar and threatening messages via Twitter and also delivered to Bethany Tyler Tinderholt, according to an arrest warrant affidavit. Bethany Tinderholt is the wife of Republican state Rep. Tony Tinderholt.
Using the handle 'CzarofSwag,' Powers, a City Council candidate for District 5 in Arlington, allegedly used Twitter messages on Valentine's Day 2016 to proposition Bethany Tinderholt. The messages called Bethany Tinderholt an obscene name and offered $1 and $5 for various sex acts, as well as mentioning her children in an alarming tweet.
"also I hope one of your kids gets raped by a pedophile or killed by someone texting. You can thank your husband for that."
Several messages alluded to Powers having jumped a wall, picked the locks, and watched Bethany in her home.
"…easy to jump and your locks are crap. Picked them right open. Better get new ones."

"and I wish you wouldn't keep your blinds closed so much. Makes it harder to watch."
Court documents also show a threatening letter addressed to 'Beth Tinderholt' was put in a mailbox belonging to the Tinderbolt's neighbor.
"I do love watching you Beth. I would hate to see something happen to you. See you again soon."
The letter included numbers and symbols, but their meaning is unclear.
Security video of the area shows someone riding a black motorcycle pull up and put something in the mailbox. Police say a similar motorcycle was in the driveway when they went to Powers' home.
Old tweets from Powers' estranged wife, Facebook and LinkedIn accounts, and an I.P. address connected to the CzarofSwag handle led to Powers, who has denied harassing anyone. When asked by police what his Twitter handle was, Powers "stuttered as if he was making up a handle" and "did not appear truthful," according to the arrest warrant, and answered, "Welikeeggs." Powers then asked for an attorney.
The CzarofSwag Twitter account has been deleted, but Bethany Tinderholt's account is still live, with an apparent response still posted:
@CzarofSwag good morning keyboard Ranger! I see you're too ashamed to put your name on your profile. Have a great day

— Bethany Tinderholt (@bethtinderholt) February 15, 2016
Powers' charge of harassment is a Class B misdemeanor. He was released after posting $2,500 bail and faces up to 180 days if convicted.
Rep. Tony Tinderholt, who represents parts of Arlington in the Texas House of Representatives, proposed controversial House Bill 948 criminalizing abortion, saying the law would make women "more personally responsible." He has been under public safety protection since receiving death threats earlier this year.