This is an archived article and the information in the article may be outdated. Please look at the time stamp on the story to see when it was last updated.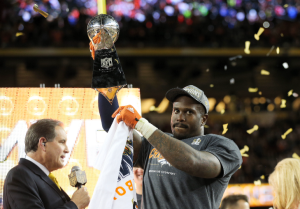 DeSOTO – As the confetti rained down for the Broncos, celebrations were underway. Not only in Santa Clara and Denver but in DeSoto, Texas too, the hometown of Super Bowl MVP Von Miller.
"When it happened, I was incredibly proud as a coach of his. I was just a small piece," says Brian Stansberry, assistant coach at DeSoto High School.
Stansberry was Miller's position coach at DeSoto. Watching his former athlete force two fumbles and make 2.5 sacks was no ordinary Super Bowl experience.
"Watching the game, it got kind of intense. I about smacked my chair when I thought Von was going to sack Cam again," says Stansberry.
DeSoto has had plenty of football talent come through its doors. In fact, three of Miller's teammates on the 2006 team went on to play in the NFL, but Miller's talent was always clear.
"You put him in the middle of the defense and they couldn't run away from him. He could play sideline to sideline," says Stansberry. "Double teams wouldn't stop him. You could tell he was going to be a special player."
Miller clearly hasn't forgotten where he came from, either. He donated dozens of helmets to his alma matter.
"Our kids loved them," says Stansberry.
The linebacker went through tough times early in his career, getting suspended six games in 2013. But, just hours after his Super Bowl win he sent a social media shout out to his embattled fellow Aggie Johnny Manziel.
"Two years ago, they counted me out," he wrote on Instagram. "Two years from now you can do the same."
Super Bowl MVP. That's one way to turn it around.