This is an archived article and the information in the article may be outdated. Please look at the time stamp on the story to see when it was last updated.
LOS ANGELES, CA -- The carpet was rolled out and cameras at the ready!
All eyes were on the leading ladies of Hollywood at this years 75th Golden Globes to see not who they wore, but what they wore. As a sign of unity, several Hollywood A-listers wore all black to protest against the sexual harassment drama that exploded in the industry.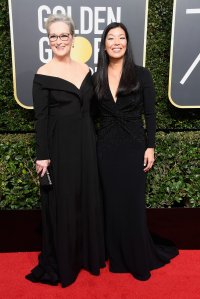 Saoirse Ronan, Ashley Judd, Gal Gadot, and Rosario Dawson are just a few of the actresses who donned all black on the red carpet.
"We feel sort of emboldened in this particular moment to stand together in a thick black line," Meryl Streep said.
It's not just the women dressing for the occasion! Dwayne "The Rock" Johnson is on the list with other men who joined their female colleagues in the blackout protest.
The black cherry on top? Some celebs wore a "Time's Up" pin as their accessory choice. The pin was commissioned by Reese Witherspoon, and other women, to raise awareness against sexual harassment in the workplace.
The struggle was real for Hollywood in 2017. Here's hoping for a plot twist this year!