This is an archived article and the information in the article may be outdated. Please look at the time stamp on the story to see when it was last updated.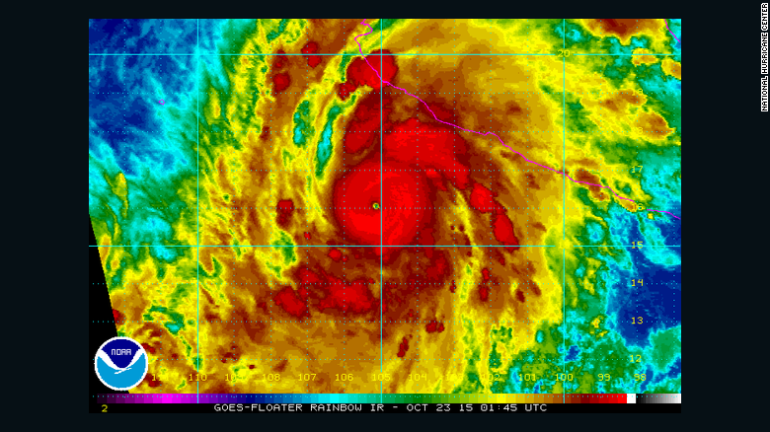 Hurricane Patricia — the strongest hurricane ever recorded — weakened slightly Friday as it barreled closer to Mexico's Pacific coast, with sustained winds decreasing to 190 mph and gusts to 235 mph, the National Hurricane Center said in its latest advisory.
The storm began lashing the coast Friday evening with strong winds and rain as tourists and residents in resorts such as Puerto Vallarta and Manzanillo sought shelter. Areas near the expected landfall braced for potentially catastrophic 200-mph sustained winds and torrential rains.
Late Friday afternoon, the storm was centered 60 miles (95 kilometers) west of Manzanillo, and 110 miles south of Cabo Corrientes.
Moving at 14 mph, it is forecast to pivot north-northeast later Friday and pick up speed — especially after it makes landfall, when Patricia should both accelerate and "rapidly weaken over the mountains of Mexico," according to the U.S. National Hurricane Center.
The excessive wind speeds, according to the head of the Mexican agency that includes its national weather service, "makes Patricia the most dangerous storm in history."
By that, CONAGUA director Robert Ramirez de la Parra meant any cyclone ever measured, not just in and around Mexico.
Ramirez de la Parra predicted Patricia wouldl make landfall somewhere on the coast of Jalisco state — which includes the tourist hot spot of Puerto Vallarta and is close to Manzanillo and Colima — between 5 and 6 p.m. CT (6 and 7 p.m. ET). But its impact was felt much sooner, with 100 kph (62 mph) winds lashing the region in the early afternoon.
"The hurricane is so big and so intense that it has the capacity to pass over both the Sierra Madres in our country — that is, through our most mountainous ranges — and then exit the country on the other side into the north part of the Gulf of Mexico and possibly the United States," Ramirez de la Parra said.
While its strength could fluctuate, "Patricia is expected to remain an extremely dangerous Category 5 hurricane through landfall," the U.S. National Hurricane Center said Friday afternoon.
Already, Patricia is "the strongest hurricane on record in the National Hurricane Center's area of responsibility (AOR) which includes the Atlantic and the eastern North Pacific basins," according to a Friday morning forecast discussion.
The closest contender, at this point, might be Hurricane Camille, which battered the U.S. Gulf Coast in 1969. Patricia looks to be more powerful than that storm, as well as stronger than Hurricane Andrew in 1992, Katrina in 2005 and many others.
It already has surpassed them in one way: its central pressure reading — the weight of the air above a system — which is a key measure of any storm's strength.
Live updates on Hurricane Patricia
The midday Friday central pressure recording of 879 millibars (the barometric pressure equivalent is 25.96 inches) "is the lowest for any tropical cyclone globally for over 30 years," according to the Met Office, Britain's weather service.
Patricia's intensity is comparable to Typhoon Haiyan, which hit the Philippines in 2013, the World Meteorological Organization tweeted. More than 6,000 people died in Haiyan, due largely to enormous storm surges that rushed through coastal areas. Haiyan had 195 mph sustained windswhen it made landfall, while Typhoon Tip was at 190 mph (and had a slightly lower pressure reading of 870 millibars) in 1979.
Whether Patricia measures up to those Asian typhoons when it slams Mexico, CNN meteorologist Chad Myers said, "This is the only hurricane that's ever been this powerful."
What it's like to fly into a hurricane