This is an archived article and the information in the article may be outdated. Please look at the time stamp on the story to see when it was last updated.
DALLAS-- There are two types of people in the world. Those who wait for the walk sign, and those who'd rather not. Add in some distracted drivers on the road, and someone is bound to get hurt. Especially when it comes to going out and having a few drinks like,  New Years Eve maybe?
"Something comes out in front of you, it's too late to react." says Nicole Barryer.
Rob Slessinger, a Dallas driver says, "I see people walking off when it doesn't say walk, and people turning and almost hitting them as they are going across."
Which, brings up the question: have you ever stopped to think where it's most dangerous to walk around north Texas?
You'd probably guess downtown, and you're right.
Hill Law Firm put together this interactive map to try and raise some awareness about which intersections are the most dangerous.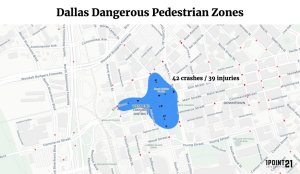 The second most dangerous intersection in the state is the West End. There have been 42 crashes, and 39 people hurt over a three year time period.
Barryer says, "That's all i can say is wow, that's why you have crosswalks." Slessinger agrees, "A lot of them don't know exactly where they are going. They always have their GPS in their car with them, they pay more attention to that I am afraid then pedestrians walking."
The intersection of Malcolm X and MLK in Dallas is ranked as highly dangerous too. So is the Fort Worth intersection of East Lancaster and Riverside.
Whether you're the walker, or the driver, or even a biker, it doesn't matter. Pay attention and put down the phone.