This is an archived article and the information in the article may be outdated. Please look at the time stamp on the story to see when it was last updated.
DALLAS – The man being treated for Ebola in Dallas has been identified as Thomas Eric Duncan of Liberia.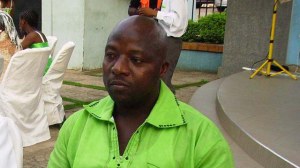 Governor Rick Perry addressing the media Wednesday afternoon said he has the utmost confidence that Texas is prepared to handle this deadly virus and protect the Dallas community and the rest of the country.
"This case is serious, but rest assured that our system is working as it should," Governor Perry said with federal, state and local health officials backing him up.
While concern is an obvious reaction to Ebola, officials wanted to project calm and express to the public that everything is being done to prevent more exposures.
RELATED – Ebola in Dallas: Your Questions Answered
"This virus is isolated, is being contained and will be contained," said Dallas County Commissioner Judge Clay Jenkins.
Dallas Mayor Mike Rawlings also chimed in saying that officials are working on a communications plan to inform residents. Rawlings said they include updating 911 & 311 dispatchers and training for first responders.
Meanwhile, Duncan is currently isolated at Presbyterian Hospital in central Dallas.
Before his admission, he was staying with relatives at The Ivy Apartments on Fair Oaks Avenue, not far from the hospital.
Duncan may have come in contact with relatives and five kids who attend four different schools — Conrad High School, Tasby Middle School, Dan D. Rogers Elementary and Hotchkiss Elementary.
DISD officials said those kids who may have been exposed are at home. So far, they are not showing any symptoms and are being closely monitored by county health officials.
City and county leaders repeatedly stressed they have everything under control, and there is no risk of a widespread outbreak and contraction from an infected individual would be rare.
"Science says if you are not exhibiting symptoms of this, there is zero chance you can transmit this. Not miniscule, but zero chance," exclaimed Mayor Rawlings.
[STORY ORIGINALLY FILED 9/30/2014]
DALLAS —  There's major concern in Dallas. A patient being treated at Texas Health Presbyterian Hospital is the first person diagnosed with Ebola in the United States.
"This individual left Liberia on the 19th of September, arrived in the U.S. on the 20th of September, had no symptoms when departing Liberia or entering this country," said Dr. Tom Frieden, Director of the CDC announced Tuesday.
The man, whose identity has not been released, is in "strict isolation" away from other Dallas patients, but that hasn't stopped the worrying.
 "It makes me feel scared because my daughter's here, and she's a premature baby," mother Jasmine Martinez said.
Citing privacy concerns, health officials declined to release any details about how the patient contracted the virus, what he was doing in Liberia or how he was being treated.
"I can say he is ill. He is under intensive care," Edward Goodman of the Presbyterian hospital told reporters.
The patient is believed to have had a handful of contacts with people after showing symptoms of the virus, and before being hospitalized, Frieden said. A CDC team is en route to Texas to investigate those contacts.
There have been more than 6,000 reported Ebola cases in West Africa. According to a recent World Health Organization report, nearly half have died.
 There have been nearly a dozen false alarms in the U.S. the past few months.  Each patient tested negative, but this is the real deal.
"The bottom line here is that I have no doubt that we will control this importation or this case of Ebola so that it does not spread widely in this country," Dr. Frieden said.
The CDC reiterates, Ebola is not airborne. It is spread by bodily fluids and air travel can make this problem everyone's problem.
RELATED –  Going Home: Fort Worth Ebola Doctor Cured
Sick Prediction: Ebola Cases Could Hit 1.4 Million by January
Help On the Way: Obama Outlines New Plan to Fight Ebola