This is an archived article and the information in the article may be outdated. Please look at the time stamp on the story to see when it was last updated.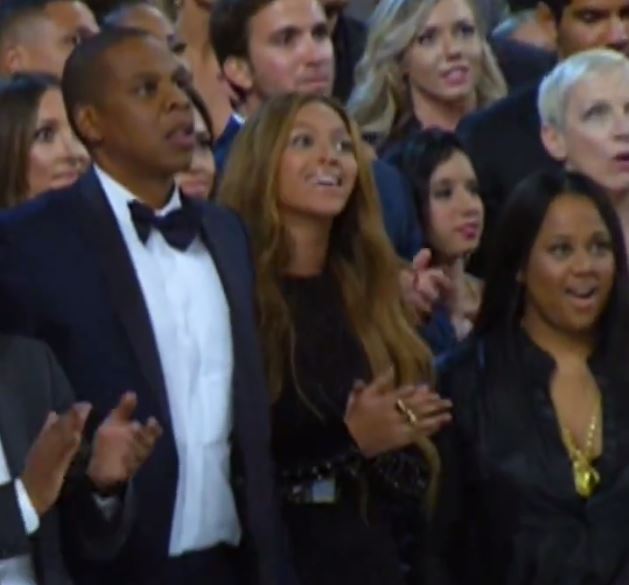 LOS ANGELES — Jay-Z and Beyonce's facial expressions said exactly what we all were thinking — "NOOOOOO!!! NOT AGAIN!!! — as Kanye West stormed the stage at the Grammy's… again.
Six years after Yeezy crashed Taylor Swift's acceptance speech for Album of the Year, he started to walk on the stage Sunday night after Beck won Album of the Year. But this time, once on stage, he stopped, smiled and returned to his seat.
The crowd went wild with laughter. We all sat at home thinking, "Well… Kanye has a sense of humor, after all."
WRONG!
Turns out, Mr. West was NOT joking. During his post-awards show interview with E!, the rapper said Beck needs to "respect artistry" and that "he should have given his award to Beyoncé."
"If they want real artists to keep coming back, they need to stop playing with us. Flawless Beyoncé video, and Beck needs to respect artistry and he should have given his award to Beyoncé. And at this point, we tired of it," Kanye said. "Because what happens is, when you keep on diminishing art and not respecting the craft and smacking people in the face after they deliver monumental feats of music, it's disrespectful to inspiration."
Beck, for his part, responded to the minor interruption with class, telling US Weekly: "I was just so excited he was coming up. He deserves to be on stage as much as anybody."
When asked if he was offended by Yeezy storming the stage, Beck was as humble and cool as his album sounds. "You can't please everybody, man," he told US Weekly. "I still love him and think he's genius. I aspire to do what he does."
Meanwhile, Kanye bashed the Grammys during the interview for running music over artist's speeches to make time for advertising. He also told E! why he didn't fully interrupt Beck's speech.
"I got my wife, my daughter and I got my clothing line, so I'm not going to do nothing that would put my daughter at risk, but I am here to fight for creativity. That's why I didn't say anything tonight, but you all knew what it meant when 'Ye stepped on that stage."