This is an archived article and the information in the article may be outdated. Please look at the time stamp on the story to see when it was last updated.
NEW JERSEY — It's the unlikely bromance that sparked a thousand rumors.
Yeah, who could forget last week's diss turn disturbing  Jerry manwich in the owner's box at AT&T Stadium? Well, good ole boy Chris Christie has made no apologies for being a die-hard Cowboys fan.
But, back in his home state,  it looks like the Jersey boy is getting more jeers than cheers. Just feast your eyes on this gem: that's Friday's cover of the Trentonian.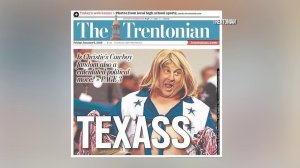 We're guessing you'll never look at a Cowboys Cheerleader uniform the same way ever again. Some folks say Chritie's Cowboys appearances could be politically motivated; others have even questioned his freebie flights and tickets to the game.
But, Christie's camp says it's all legit, and adds he'll even pay out of pocket for Sunday's match-up against the Packers.
That's right – Christie will be at Lambeau Field, lucky orange sweater and all.
Hey, considering the 'Boys are on a five-game winning streak when he's in attendance, what have we got to lose?
So, let's just keep ridin' the Christie train …hey, maybe this lucky charm could be the next Rowdy?