This is an archived article and the information in the article may be outdated. Please look at the time stamp on the story to see when it was last updated.
GRANBURY, Texas — The driver who swerved and hit a motorcycle near Granbury spent Monday night in jail. William Crum is charged with aggravated assault with a deadly weapon and aggravated assault causing bodily injury — charges that could send him to prison for 20 years each.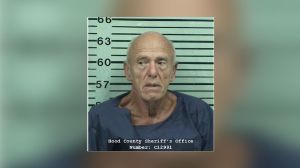 The deadly weapon: his car.
The bodily injury: enough to put motorcycle passenger Debra Simpson in intensive care.
So far, 68-year-old William Crum is sticking to his story about what caused him to swerve, "I got stung by a wasp."
But it's one part of the now-viral video that really has a lot of people question how it really happened.
"You hit them!"
"I don't care," Crum can be heard saying.
He spoke out from the Hood County Jail Tuesday, "I'm pissed off to put it bluntly."
Crum says it's not fair he's in jail and the motorcycle driver, who was passing illegally, is not. He still says he did not intentionally cause the accident but admits, the video makes him look bad.
"If I was a person that actually wasn't in the car, I would think the same thing that they do," Crum said.
It's not the first time William Crum has had a run-in with the law. In 2007, he was convicted of reckless driving and making a terroristic threat. He got a suspended sentence and probation.
He has other convictions for unauthorized use of a motor vehicle, 911 call abuse, and family abuse. He got probation or community service each time.
The motorcycle driver, Eric Sanders, set up a GoFundMe page to raise $10,000 to help with expenses while his girlfriend is in the hospital. By Tuesday, he was three-quarters of the way to that goal
But comments on the page show how divided folks are about what they see on the video. One man wrote, "You played games, put your girlfriend at risk and now you are trying to play the innocent victim."
A woman responded, "I see people pass in a No-Passing Zone all the time, but I don't try to kill them."
Hey, we've all been annoyed by reckless drivers. The question is  — Is this a case of someone taking the law into his own hands or a true accident?
Guess we'll find out if the bug bite defense will fly.