This is an archived article and the information in the article may be outdated. Please look at the time stamp on the story to see when it was last updated.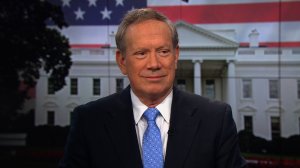 WASHINGTON, D.C. — George Pataki, the Republican who won the governorship three times in heavily Democratic New York, will run for president in 2016.
"My vision was not a partisan vision. It was a vision about people, about what we could accomplish together," Pataki said as he narrated a four-minute announcement video released Thursday morning. "If we are to flourish as a people, we have to fall in love with America again."
Despite being a decade-long governor of what was then the nation's second largest state, Pataki is perhaps the longest of longshots of GOP hopefuls. He barely registers in national opinion polls of the Republican field — if pollsters decide to include him at all.
And Pataki doesn't fare much better among Republican elites, either: No prominent elected officials or donors have stepped forward to trumpet his bid in a field that many top Republicans tout as one of the most competitive they have ever seen.
Given that support base, it is unlikely that Pataki will make the first Republican debate, which will be limited to the top 10 Republican hopefuls. That could stifle any efforts to increase his name identification among next year's voters
But Pataki isn't likely to run a national campaign, if the pre-announcement build-up is any indication. Pataki has dedicated most of his travel to New Hampshire, the second nominating contest and a state where Pataki struggles equally as severely as he does in national surveys.
Pataki, 69, plans to hold his first campaign event Thursday morning in the small New Hampshire town of Exeter, which claims to be the birthplace of the Republican Party. New Hampshire tends to support more moderate Republicans, cut from the same cloth as Pataki, who supports conservation, same-sex marriage and gun control.
Even before he formally became a candidate, Pataki chose to air a television advertisement in the Granite State that panned his party for focusing on social issues that he deemed a "distraction."
"Defeating Islamic terrorists, shrinking government, growing the economy — these are the issues that matter most," Pataki says in the advertisement that began in mid-April. "Instead we're debating social issues like abortion and gay rights."
Pataki has also shown himself in the early stages to be one of the more hawkish presidential aspirants. The former governor said on CNN's "New Day" last week that the United States should deploy troops back to Iraq to fight growing Islamist threats, a position not expressed by his colleagues in the fray.
"I don't want to see us putting in a million soldiers, spend 10 years, a trillion dollars, trying to create a democracy where one hasn't existed," Pataki said. "But send in troops, destroy their training centers, destroy their recruitment centers, destroy the area where they are looking to plan to attack us here and then get out."
Pataki seems to be embracing the distance between him and his Republican rivals, positioning himself as an anti-establishment candidate despite lacking the tea party panache of more popular presidential aspirants like Ted Cruz or Rand Paul. Pataki and his aides have telegraphed that he plans to run as an outsider, naming the super PAC supporting his bid as, "We the People Not Washington.
A lawyer by trade, Pataki rose from being the mayor of the Westchester County hamlet of Peekskill through the New York state legislature. In the fall of 1994, Pataki ousted liberal darling Mario Cuomo to become New York's first Republican governor in two decades.
Pataki shepherded laws through Albany that reduced some tax rates and increased sentences for criminals committing hate crimes. He also governed New York as the state recovered from the September 11 attacks that happened a year before voters elected him to a third term.
He declined to run in 2006 for a fourth term, and Democratic attorney general Eliot Spitzer succeeded him.
Pataki stoked speculation that he would run in 2008 and in 2012, but this is the year he has chosen to follow through.