This is an archived article and the information in the article may be outdated. Please look at the time stamp on the story to see when it was last updated.
If you traverse through the city daily, you're bombarded with traffic, noise, and people. Sometimes it's good to just get away from it all. Just minutes from the heart of Downtown Dallas, the Garden Cafe off of Junius can be a great way to do just that.
Chef and manger Mark Wootton took over the Cafe from his dad almost 4 years ago. Mark says, " It still blows me kind of away here we are just 5 minutes away from the concrete and hustle of downtown and you go back there and it's a completely different place."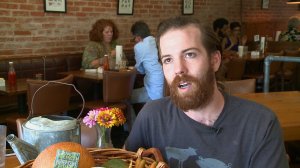 Mark prides himself on working with local farmers and even pulling from the garden in the back to help him work with as he says, "The Best Possible Ingredients."  The Garden Cafe is open for breakfast and lunch, but occasionally has dinner events like poetry reading and movie nights. The tranquility has even led some guest to have weddings and events at the  scenic locale.
This slideshow requires JavaScript.
Garden Cafe – 5310 Junius St, Dallas, TX 75214