This is an archived article and the information in the article may be outdated. Please look at the time stamp on the story to see when it was last updated.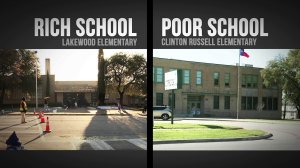 DALLAS–It's a case of "rich school, poor school."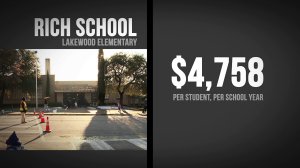 A complaint filed with the U.S. Department of Education says Lakewood Elementary is the rich school, with a budget of more than $4,700 per student each school year.
Clinton Russell Elementary would be the poor school, with only $2,300 per student every year. Russell gets some extra money from the feds in a program called "Title One." But even when you add the extra $1,600, Russell students still come up several hundred bucks short, according to the complaint.
The activists behind the complaint say the district's not spending enough of its local tax money on poor schools, and using the fed money to hide the discrepancy.
"We are spending our resources on the kids who need it," Dallas ISD superintendent Mike Miles said in a news conference Wednesday morning.
Miles says a lot of numbers are involved, and the people behind the complaint are only looking at *some of the numbers.
He did not provide any numbers to clear things up, and challenged the activists' motives.
"What can't be excused, though, is the purposeful intent to create divisions," Miles said. "Divisions between schools. Divisions between communities."
It could be months before we know whether the feds will order changes. In the meantime, it's the kids who are caught in the middle.