This is an archived article and the information in the article may be outdated. Please look at the time stamp on the story to see when it was last updated.
CARY, NC -- Even if you don't play it, you've probably heard of it.
Fortnite has been building its way to the top of the gaming community is now making its way to your phone!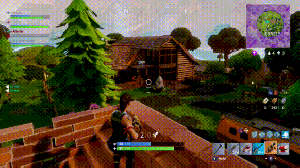 The every-man-for-himself gameplay is already on every platform for free on PS4, Xbox One, and PC. Playing on mobile used to be invite only, but now the hype can continue for every gamer who has an iPhone or iPad!
In a blog post, the development team said "Fortnite Battle Royale will support cross play and cross progression between Playstation 4, PC, Mac, iOS, and eventually Android. This means players across devices can squad up with friends and play together."
Fortnite isn't the only game getting a lot of buzz!
Steven Spielberg's film "Ready Player One" may be all about a virtual reality video game, but the box office opening is most certainly the real thing!
The movie was top of the box office for its opening weekend, making $53.2 million in just four days, which happens to be Spielberg's best opening in ten years when "Indiana Jones and the Kingdom of the Crystal Skull" hit theaters in 2008!
We're all for fun and games, but don't forget to put down the controller every once and a while!