This is an archived article and the information in the article may be outdated. Please look at the time stamp on the story to see when it was last updated.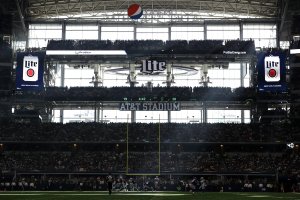 ARLINGTON — So the Cowboys lost another heartbreaker Sunday, and as with any loss around here, there's some controversy. It's not from protesting players or another overruled Dez catch, but the sun!
Yeah, late in the game with the Boys trying to drive for the win, the sunlight streaming through the stadium seemed to affect three big plays that could've made a big difference.
After the game, Dez admitted that the sun did get to him, but gave the ultimate credit to the defense.
"Yeah, yeah it did," said Bryant after the game. "And the safety, he made a hell of a play. He did."
Well, don't expect coach Garrett to dwell on this "glaring" issue at all.
"The sun's been there for five billion years and it'll be there for five billion more," Garrett said on Monday. "We've all played in games where sun or weather was a factor and my experience has been that it's a factor for both teams and everybody who's out there. So you have to handle those kinds of situations when they come up."
And, hey we don't think it was the sun getting in Terrance Williams' eyes that made him lose sight of getting out of bounds at the end of the game.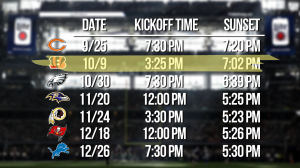 Well here's the good news: Looking ahead at the Boys' home schedule, unless the NFL flexes some start times around, the sun should only be a 4th quarter issue in one more game, the October 9th battle against the Bengals.
So instead of drastic solutions, like hanging tacky curtains in Jerry's billion dollar palace, the only thing that the players and fans can really do is…