This is an archived article and the information in the article may be outdated. Please look at the time stamp on the story to see when it was last updated.
It's possibly the most iconic landmark in Dallas. With its distinctive glow and nightly light shows, Reunion Tower has become a symbol of the Big D's Skyline.
So when Wolfgang Puck's Five Sixty opened at the top of the Historic Ball, it was kind of a big deal!
There was a little  pressure for Texas Native Patton Robertson, who was asked to be Executive Chef of the modern Asian restaurant. But with celebrity Chef Puck setting the style and expectations, Five Sixty has become the award-winning hot spot it's known for today.
"He's pretty serious when it comes to food," Robertson said about Puck. "But as long as everyone is happy and having a good time, he's happy and it makes it easy to work for him."
This slideshow requires JavaScript.
According to Robertson, the menu has a full range. "We do a little bit of everything  –Chinese, Japanese, as you see the sushi bar, we have some Indian dishes. It's pretty much Asian food all encompassing. "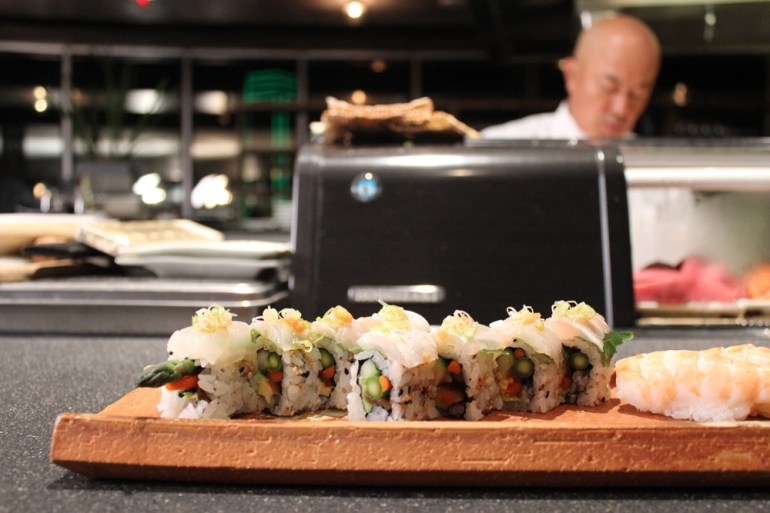 The sushi looks like a fine piece of art — much detail and perfection.
Chef Patton Robertson realizes it's more than just the food that's important here. The service and atmosphere is treated with just as much detail as the food. There is no bad seat in the house. One of the most unique parts of the restaurant is that it spins 360 degrees every 55 minutes.
So does the moving table make it a challenge for staff?
"We're really used to it. For us, it's more about which door do I come out of. It's more a timing thing," Robertson said. "I think it messes with the guests more than anything. They'll leave for the bathroom and they come back and their table is gone. "
Well, if you are craving food to die for and a seat with a killer view, come take Five Sixty for a spin. You'll be glad you did.