This is an archived article and the information in the article may be outdated. Please look at the time stamp on the story to see when it was last updated.
FRISCO - We told you about the Frisco ISD principal whose transfer from Frisco High resulted in a student walkout. Now, Sylvia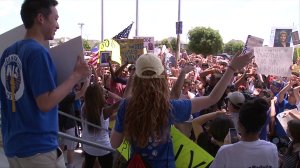 Palacios is firing back. And we're not talking about the petition that has thousands of signatures on it or the "Save Sylvia" campaign.
"We have filed a grievance," said Palacios' attorney, Tiger Hanner. "In Texas, every school district is required to have a grievance procedure."
That's right. Looks like the principal is schooling FISD on the law.
"Being the principal at the flagship campus of a school district is dramatically different than being an associate principal at an alternative behavioral campus."
Attorney Hanner calls Palacios' "reassignment" a demotion and says the move is nothing more than politics at play.
"She's pretty devastated. Initially, she was in shock. Her performance evaluation two months before this happened was superlative," Hanner explained. "Politics played a bigger role than what's in the best interest of the kids, or that campus, or even any real consideration of Mrs. Palacios' career."
Frisco ISD says otherwise.
"Mrs. Palacios has skills that are needed at the Student Opportunity Center. And it's not a punishment, but a reassignment," FISD Superintendent Dr. Jeremy Lyon said in a statement.
Lyon also noted he couldn't share specifics about his decision.
Hanner still isn't convinced.
"It is clearly a demotion," he said.
Hey, the school year may be coming to a close, but looks like this topic is heading into summer school. We're told a meeting with Lyon is in the works.