This is an archived article and the information in the article may be outdated. Please look at the time stamp on the story to see when it was last updated.
Scroll through your Facebook feed and a story like this is almost sure to come up: "Fireman Suspended and Jailed by Atheist Mayor for Praying at Scene of Fire."
Lots of news sources published it.
The story says it happened in DeQuincy, Louisiana.
If you look at some of the comments, you'll see reactions like, "This is unbelievable. This is true!"
Actually, it's not.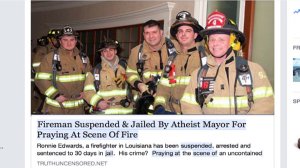 First off, look at the picture of the firefighters shown in the story. They're firefighters all right, but not in DeQuincy, Louisiana. They're 17-hundred miles away in Johnson, Rhode Island!
The story made up the name of the mayor, the names of all the firefighters, and, oh yeah, the facts.
The story's attributed to the site DQLA6, supposedly a TV station in DeQuincy. But if you read the text, it's pretty clear it's not a real TV channel.
And their website's registered to some guy in Arizona.
So when you see a story that really burns you up, check out the real source before you start flaming someone.
Is there a story on your social media feed that's so outrageous it might not be true? Tell us about it on our Facebook page and let us check it out.