This is an archived article and the information in the article may be outdated. Please look at the time stamp on the story to see when it was last updated.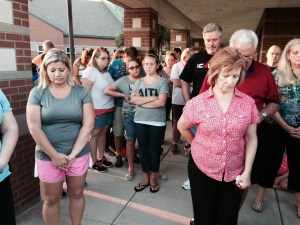 MIDLOTHIAN, TX — About 200 parents and students gathered Wednesday evening to pray outside Longbranch Elementary School in Midlothian.
They're proclaiming their faith after two plaques referencing God were removed from Longbranch and Mountain Park Elementary schools.
Related: Fighting God – School Plaques Referencing God Removed

Someone contacted the Freedom From Religion Foundation, which threatened to sue.
"It should go without saying that a public elementary school may not proclaim 'glory to God alone' nor dedicate itself to a particular church," a Freedom From Religion statement said. "We do applaud the school district for taking swift action to correct this Constitutional violation."
"I think that's stupid," Longbranch parent Lloyd Pittman said. "If don't like it just don't look at."