This is an archived article and the information in the article may be outdated. Please look at the time stamp on the story to see when it was last updated.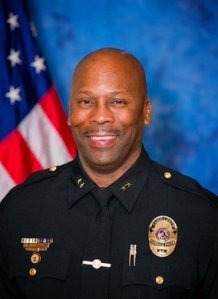 FERGUSON, MO. — The city of Ferguson, Missouri, named Andre Anderson, an African-American, as its interim police chief Wednesday morning.
Anderson said Wednesday that his first plan of action is "simply to build trust" and develop community policing in the area.
"I believe I am the right person for this particular job," he said.
He said he also wants to attract qualified applicants to the department and try to have the staff better reflect the community's demographics.
[Original story, published at 9:58 a.m. ET]
Ferguson is hiring a black interim police chief, a local media report says — a move coming after the U.S. Justice Department examined the shooting of Michael Brown and determined the mostly white police contingent had discriminated against African-Americans in the Missouri city.
Andre Anderson, previously a commander with police in Glendale, Arizona, will be introduced Wednesday morning as Ferguson's interim police chief, CNN affiliate KMOV in St. Louis reported.
The city of Ferguson will announce a new interim police chief at about 9 a.m. CT (10 a.m. ET), city representative Jeff Small told CNN.
Anderson, in at least a temporary capacity, would succeed former Chief Thomas Jackson, a white man who resigned in March after the Justice Department released a report exposing problems in the city's policing tactics and faulting Ferguson's officers for seeing residents as "sources of revenue," a practice that federal investigators said disproportionately targeted African-Americans.
The report also found evidence of racist jokes sent by Ferguson police and court officials.
The Justice Department launched its investigation after a white Ferguson police officer, Darren Wilson, shot and killed Brown, a black teenager, in August, setting off months of sometimes violent street protests in the St. Louis suburb.
Both a grand jury and the Justice Department declined to bring charges against Wilson, who said he shot Brown in self-defense.