This is an archived article and the information in the article may be outdated. Please look at the time stamp on the story to see when it was last updated.
SAN ANTONIO -- When it comes to being innovative, fast food restaurants always push the envelope.
One of those creative food chains is Whataburger.
Last year the burger joint partnered with San Antonio creative artist Jake Danklefs for their WhataThoseContest where people could enter to win a pair of custom Whataburger sneakers.
Danklefs first started creating custom sneakers in his home studio, but his business skyrocketed after he got a call from Lebron James to design a shoe for his Sports Illustrated cover. From there, customers came pouring in.
So when Whataburger presented Danklefs with their offer, he took the idea and ran with it, creating multiple Whataburger inspired shoe designs.
But the one that takes the cake around here are these spruced up a pair of cowboy boots specifically tailored for country singer Randy Rogers whose band was the headliner at the Texas Summer Jam this year.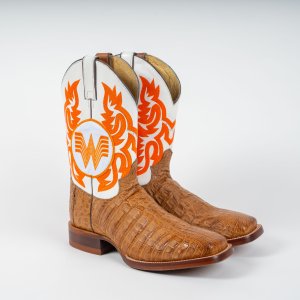 And speaking of creativity, fast food chain Carl's Jr. is also taking another swing at new, more colorful creation.
Five years ago they tried Pop Tart ice cream sandwiches, and now they've introduced these new Froot Loop inspired mini donuts!
Are they mini donuts or giant Froot Loops? (these are the questions we should be asking ourselves) #FrootLoopsMiniDonuts pic.twitter.com/UV7vwMbO5Y

— Carl's Jr. (@CarlsJr) August 29, 2018
The donuts come in red, blue, green, purple and yellow!
Not sure how well these may sit after a burger, but hey, don't knock it until you try it!