This is an archived article and the information in the article may be outdated. Please look at the time stamp on the story to see when it was last updated.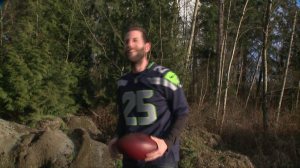 SEATTLE, Wash. — It's what every fan dreams of: A come-from-behind win. But Jermaine Kearse's catch isn't the only catch people are talking about. Seattle Seahawks fan Scott Shelton caught the game winning touchdown ball when Kearse threw it into the stands.
"Kearse turns around and lobs the ball up in the stadium and it hit about four people's hands and bounced right into my chest, just like this, " Shelton said. He still can't believe he caught the ball. "We just won the game, going to the Super Bowl and I got the ball? Are you kidding me?"
But…
Kearse wants his ball back and has offered to trade Shelton his game helmet, signed by the team, and game jersey for the ball. Too bad for the Seahawks, it's going to take more than that to "strip" this 12th Man.