This is an archived article and the information in the article may be outdated. Please look at the time stamp on the story to see when it was last updated.
When you walk into Afrah you are greeted by a smile and a counter full of colorful sweets,  and homemade  gelato and baklava.
As you step further inside you can't help but notice the large spinning Shawarma in the back. There is a family vibe to Afrah, and that makes sense, since it was created by three brothers.
When Ayad Elhorr and his brothers came to the states, they brought their love of home made food with them. This would soon inspire the creation of Afrah. The restaurant started out in 2003 as a sweet shop making baklava, similar to that created in the Middle East.
But soon the brothers realized there was a demand beyond sweets and they expanded their offerings to other foods and recipes passed down by their mother.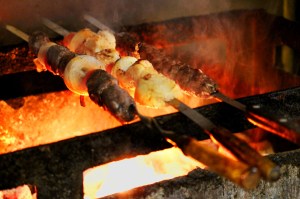 Ayad recalls when he first came to the states and left their parents they had to at least know the basics of cooking.
They wouldn't hesitate to call back home for any extra details they needed for their favorite meals. And when expanding their business they did the same. Elhorr says, "My brother started calling my mom how do you this and what spices, what's the quantity and then we made it on a bigger scale."
And it has paid off. So much so that they are expanding to a larger building next door.  And one of those things keeping people coming is the Shawarma. For those who haven't experienced the popular dish. Shawarma is layers of chicken or beef stacked like a cone, marinated and cooked on a vertical broiler and shaved to roll into a pita sandwich.  It's so popular here that Guy Fieri of Diners, Drive-Ins and Dives stopped by for an episode.
They have a lunch buffet between 11 and 2:30 Monday through Friday that draws large crowds to their healthy Mediterranean fare.
So if you are craving shawarma or some middle eastern sweets set your GPS for Afrah in Richardson.